Just when you thought it couldn't get any better, Tuesday arrived sunny but still a bit windy, much better than Monday's fog and rain.
We headed south to Grutness arriving to find many cars near the pool and around 50 birders looking into the garden. News had got out that a Yellow Rumped Warbler (also know as a Myrtle Warbler) from America, had been showing well and it wasn't log before the bird performed well much to the delight of the birders.
After the wind picked up the bird became less active spending time deep among the bushes.While these gaps got longer we were also entertained by an obliging Yellow Browed Warbler.
We moved a bit further north to find a White's Thrush, a superb bird from Siberia. At first deciding not to show, but then it moved out of cover to long grass where it spent sometime before briefly coming into the open and posing for a few photos before flying down to the bottom of the garden and out of view. This is typical of this species, a very shy bird that often stays under cover.
So glad I have my 800 mm lens back,having recently returned from Sigma. They have done a superb repair job. Had to use the lens off the tripod as the wall was too tall.
This is a large Thrush and unmistakable , a very rare visitor to the UK and the second Mega of the day.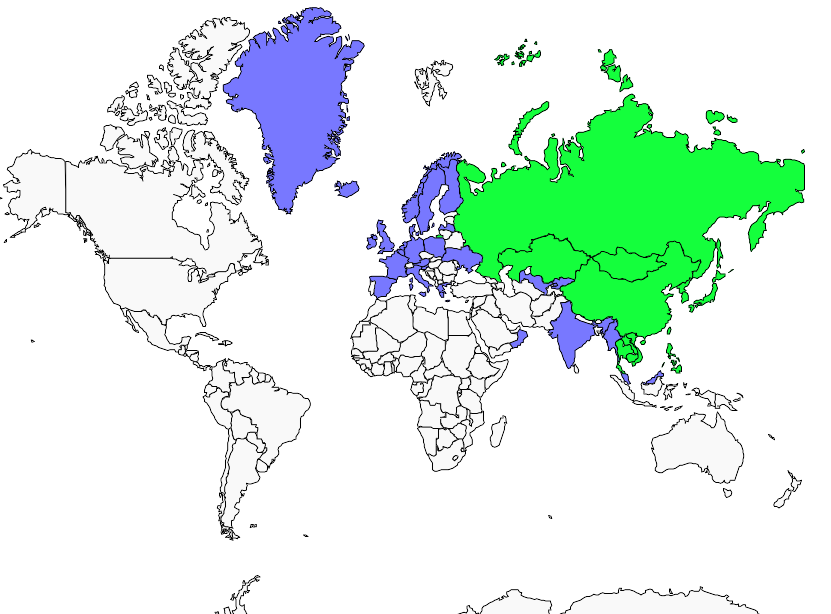 Normally found in Eastern Europe (Green)
To relax a bit we then went for a walk up Quendale, seeing two groups of birders from Sheffield. Two of the party shared a holiday to Scotland back in 1979.
My first bird was a Yellow Browed Warbler in the bushes near the mill, then a Robin , Song Thrush and Meadow Pipits near the dam. Further up a Kestrel flew chased by a Raven and this drew attention to a small flock of Swallows (5) and passing Redwing's (5) which came down into a weedy area near the dam. To finish off, a Pied Flycatcher flew up onto the old house roof before shooting down to the main farm buildings.